Camp with us onsite or check out other regional places to rest your head!
Camping
Onsite Camping
We highly recommend taking advantage of our onsite camping options – they are the clear choice if you want to maximize your Flow State experience! Click here for details about car camping and trailside camping.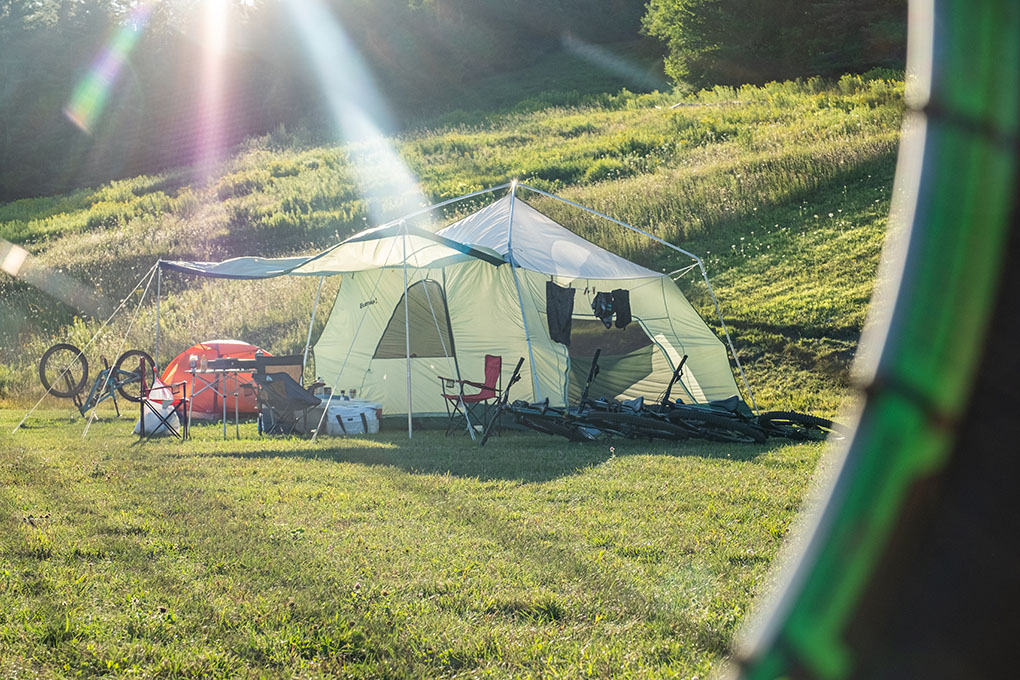 Offsite Camping
Mount Ascutney State Park Campground
Mount Ascutney State Park Campground is a small wooded campground just 4.4 miles from the Ascutney Outdoor Center, open from May 17 – October 18. They offer 38 tent/RV sites, ten lean-to's and 5 cabins available for rent within two camp loops. Each loop offers restrooms featuring modern plumbing and coin-operated showers. There is also a sanitary dump for RV's, but no hookups. There are 12 miles of hiking trails leaving from the campground that offer stunning vistas of the Connecticut River, as well as mountain bike trails to the outdoor center.
vtstateparks.com/ascutney.html
Running Bear Camping Area
Running Bear Camping Area is a family-run campground just across the road from the Connecticut River. Their facilities include use of a large field, basketball court, horseshoe pits, children's playground and our 20′ x 40′ inground heated pool. They offer 85 tent and RV sites, as well as a bathhouse, rec house with laundry, and an office store, all within 5.5 miles of the Ascutney Outdoor Center. Running Bear's camping season begins in April and wraps up mid-October.
Getaway Mountain Campground
Located 8.2 miles away from the Ascutney Outdoor Center, Getaway Mountain Campground offers 100 pull through campsites with full hookups, on the bank of the beautiful Connecticut River. The campground provides bathrooms and showers, along with a heated pool, store, rec-room, and laundry facilities. They are open from May 1st through October 25th, and allow tents, campers and RVs.
Caton Place
A ten mile drive from the Ascutney Outdoor Center, Caton Place Campground offers spacious seasonal sites, pull thrus, tent sites and lean-tos, full hook-ups with water, electric (20, 30, 50 amp service) and sewer and a dump station. Their clean bath house features showers and a laundry facility. Head over to their newly remodeled pavilion for a cookout, potluck, a game of bingo or live entertainment.
Wilgus State Park
Located on the Connecticut River, Wilgus State Park offers 15 tent/RV sites, 9 lean-to's and 4 cabins (for an additional cost). There are two restrooms with flush toilets, hot and cold running water and coin-operated hot showers. There is a picnic area and 3 lean-tos in the Group area. Canoe and kayak rentals are available at the contact station as well as a WiFi connection. Wilgus State Park is 8 miles from the Ascutney Outdoor Center.
Hotels/Motels and Inns
Holiday Inn Club Vacations Mount Ascutney Resort
Just a stone's throw from the Ascutney Outdoor Center, the Holiday Inn Mount Ascutney Resort offers the best comforts of a hotel just minutes from Flow State. They offer 1-3 bedroom villas with fully equipped kitchens, a dining room/living room area with a sleeper sofa, high speed Internet access and cable TV.
ihg.com/holidayinnclubvacations/hotels/us/en/brownsville/avtcv/hoteldetail
Snapdragon Inn
Snapdragon Inn offers nine private bedrooms, five queen sized and four king sized, each with their own bathroom. They offer a self-served buffet style breakfast, library, and property boasting a back porch, a lawn and gardens, tree swing, and walking paths. Snapdragon Inn is located across from Paradise Park in downtown Windsor and is 7.4 miles from the Ascutney Outdoor Center.
Windsor Mansion Inn
Windsor Mansion Inn offers 17 guest rooms, arranged over three floors on the edge of the Windsor State Forest. The inn is 7.7 miles from the Ascutney Outdoor Center, and offers a free continental breakfast, private bathrooms and great views.
hotels.com/ho431028/windsor-mansion-inn-windsor-united-states-of-america
Hotel Coolidge
Located in White River Junction, Hotel Coolidge is a quaint inn featuring 30 guest hotel rooms, one being of the quieter and more romantic places to stay in the area. With a full list of standard amenities, free onsite parking, and the convenience of being in the heart of White River Junction, we offer a great value to guests. Just a quick 30-minute drive from FLOW STATE.
Quality Inn, Quechee Gorge
Located just west of White River Junction in Quechee, VT, the Quality Inn is 19 miles from the Ascutney Outdoor Center. Every morning you can fill up before your outdoor adventure with a full hot breakfast, offered free daily. Offering four different room setups, a pool, and a fitness center, the Quality Inn at Quechee Gorge is a great place to stay.
AirBnb/VRBO
AirBnB Mount Ascutney
AirBnB rentals near Mount Ascutney Vermont.
airbnb.com/mount-ascutney-vt/stays
VRBO Mount Ascutney
VRBO rentals near Mount Ascutney Vermont.