The Ascutney Trails Association (ATA) in collaboration with Powder Horn Trail Co. of Belmont, NH, Ascutney Outdoors and the Town of West Windsor, is excited to announce breaking ground on the Ascutney Flow Trail & Skills Park Project.
The project is an e-bike friendly, enduro-style zone comprising three brand new downhill-only mountain bike flow trails and a skills development area. The downhill flow trails will be located within the active-use portion of the Ascutney Outdoors ski area, in the vicinity of and above the 42nd Street, Fifth Ave and Broadway mountain bike trails. This project expands the existing MTB trail network to a significantly higher point on the mountain. The Skills Park will be on the lower mountain directly above the Ascutney Outdoors Center.
The flow trails are designed primarily for use by intermediate, advanced and expert riders, and will utilize many of the incredible existing rock formations and natural features on the mountain. ATA will hand-build a climbing-only trail to access the upper portion of new flow trails, and it will begin at the current intersection of Fifth Ave and Norcross Trail.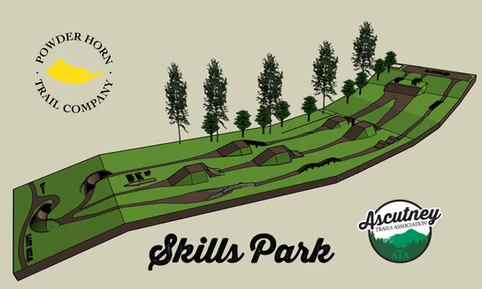 Powder Horn Trail Co. is contracted to complete the project in two phases and construction is set to begin before the end of May 2022. Phase one will see the Skills Park and lower Flow Trail completed in June 2022. Phase two will see the upper Flow Trails being built in July and planned for completion in August. All applicable permits have been approved by State & Local authorities, including Act 250 General and Stormwater Discharge permits.
We once again want to thank and congratulate everyone who has worked to bring this project to life. We are incredibly excited to be able to offer these valuable additions to the Ascutney Trails network.