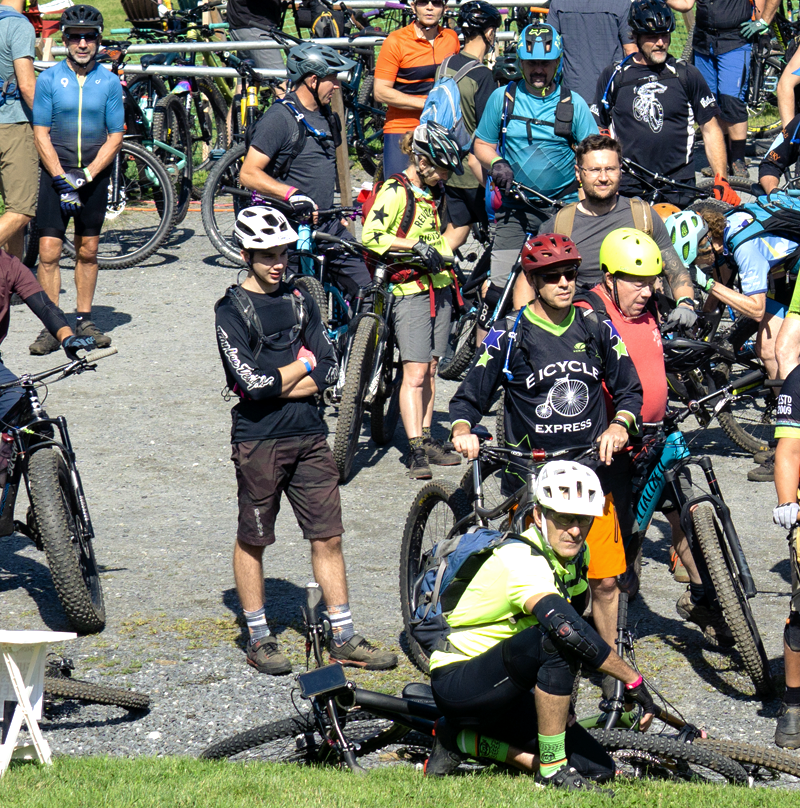 When is FLOW STATE?
FLOW STATE is Friday, July 28 through Sunday, July 30, 2023
Where is FLOW STATE?
What is ATA?
Located at the base of the old Ascutney Mountain Resort, the Ascutney Trails network snakes around the base of the northern side of the mountain and has grown since 2006 to include more than 35 miles of mapped singletrack with an additional 20 miles of trail on private land. This spring, Ascutney Trails will add another 10 miles of singletrack, headlined by the Norcross Trail, which contours the mountain from the Ascutney State Park Campground to the heart of the network in Brownsville. Also on tap is a skills park and flow trail.
What is Mountain Flyer?
Mountain Flyer is a premium quality, quarterly mountain bike journal based in Gunnison, Colo., and Jeffersonville, Vt. Our honest editorial and rich photography take you straight into the gritty, salt-stained core of the mountain bike scene. Our mission is to inspire our readers to ride and explore. Mountain Flyer is renowned for its photo-driven, feature-oriented storytelling, focusing on clean design and high-quality printing.
Where do the proceeds of FLOW STATE go?
100% of profits go to the Ascutney Trails Association to keep up their growing network of trails and bring commerce to the Windsor/Brownvsille area
Is there onsite camping for FLOW STATE?
Yes, we have a limited number of onsite camping you can check all the rules and regulations regarding camping here:
Can I bring my dog?
Dogs are not allowed at the Flow State Mountain bike festival, as per ATA's official dog policy:
ATA has made the decision that Flow State will be a pet-free event. Please note that dogs are not allowed at the festival, and if you bring your dog, you will be asked to leave.
This policy is in the best interest of fellow fest attendees as well as our 4-legged friends, who don't need to be left unattended or spend hours locked in a hot car in July if you are out riding.
The festival environment is often hot, crowded, and loud, and can be very stressful for animals and a usually well-behaved pet may behave otherwise. We know that many folks have trail dogs join them on rides, but the sheer amount of bikes on the trails would make it dangerous for dogs as well as humans at Flow State.
Please be a responsible and loving dog parent by leaving them at home or making arrangements to put them in a local kennel for the day/weekend.
Is the event cash only?
Vendors should be able to accept credit cards at the retail and registration booth, but food and expo vendors may be cash only – WiFi is spotty so please be prepared to pay for onsite purchases with CASH!
Is there an ATM on site?
There is NO ATM on site. Please bring enough cash for the weekend or plan on going to a bank in Windsor (10 min drive).
Will there be food on site?
Yes, we have at least 4 food vendors lined up to serve breakfast lunch and dinner all weekend long.
Are there showers for those that are camping?
No. Sorry. But there is nearby river access!
Will there be music?
We have bands scheduled for Friday and Saturday night.
Will there be beer?
Better question, would it be a proper festival if we didn't have Beer? There will be a beer garden running each day. Outside alcohol is not permitted in our festival perimeter. In line with town liquor regulations, we ask you to please refrain from drinking in the camping zones while our beer tent is open.
Can I have a camp fire at my camp site?
No. Sorry. No open flames are allowed. Camp stoves are permitted provided you used them responsibly.
Can I have a grill at my campsite?
If you do not wish to eat some of the best food ever from our amazing food vendors you will be missing out, but you are allowed to bring your own food and grill to your FLOW STATE campsite.
What are the quiet hours?
Following Local regulations quiet hours are between 10 p.m. – 6 a.m.
What do I need to bring if I want to demo bikes?
You should bring a set of pedals, your ID and a credit card for the demo tent to hold as collateral.
What should I do if I want to camp next to my friend?
All camping is first come first serve. If you would like to camp with a friend, please make sure to arrive at the same time.
What are the rules around COVID 19?
Following current Vermont guidelines, we simply ask that any individuals who are showing symptoms to please wear a mask at the festival when social distancing cannot be maintained.